I'm not planning to do these every month, but I am tired today and my brain can't handle much. Plus, I love gushing about my circle of people. So today, in honor of Valentine's Day I guess, I'm linking up with The Blended Blog for some relationship-related questions.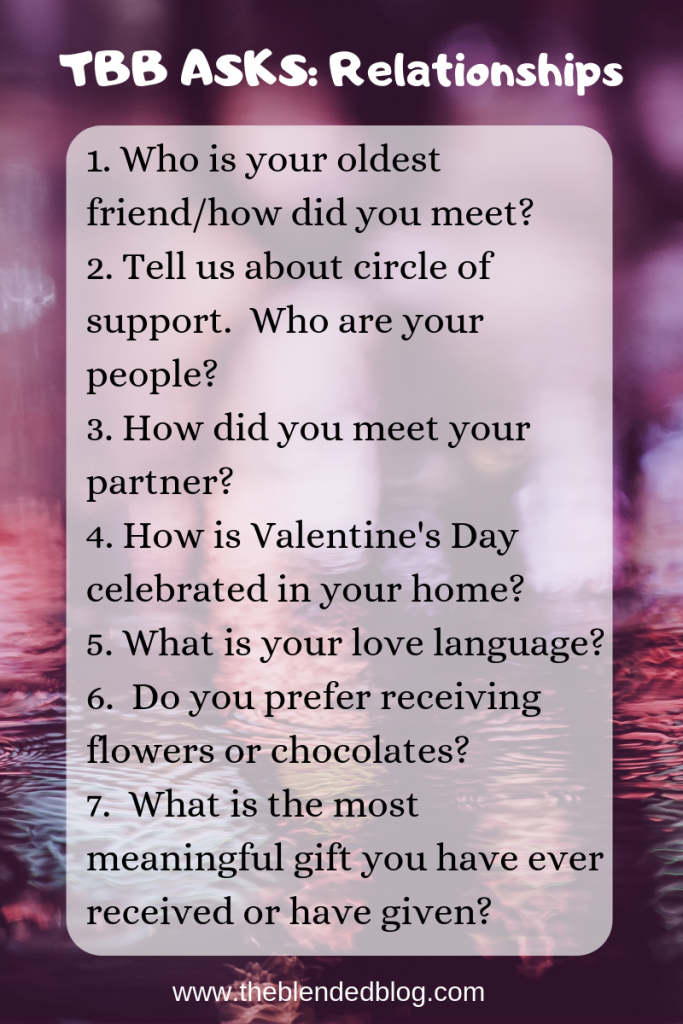 1 | Who is your oldest friend? How did you meet?
I have a friends from church & elementary school that I still talk to occasionally, but I met my oldest best friend in 5th grade. I was visiting her elementary school and ended up at her table and she was SO loud. We still laugh about my first impression of her 😉
2 | Tell us about your circle of support. Who are your people?
Obviously K is my person. I have three best friends and a handful of very very close friends. K and I are very close with most of our family. My brother and siblings-in-law are also in my close circle.
3 | How did you meet your partner?
We were both band nerds. We met when I was 15 but we didn't start dating until after my 17th birthday.
4 | How is Valentine's Day celebrated in your home?
It's not. The last few years we've been on a business trip over the 14th. We typically go to dinner but we don't put much effort into V-Day.
5 | What is your love language?
I know they can change, but last I checked it was Quality Time. This gets tricky because we work together, but I don't typically see time in the office as "quality." I think K is somewhere between Acts of Service & Words of Affirmation.
6 | Flowers or chocolate?
Flowers for sure. But books are even better.
7 | What is the most meaningful gift you have ever been given? 
Hmm. I'm not sure. My husband is incredible at getting personalized gifts for me. He once bought me a frame with original film clips from each HP movie. This past birthday he got me orchestra tickets to see HP and the PoA in concert. My best friend Erica gave us a custom Lylee ornament one year for Christmas and I love it with all my heart. Gifts based around HP or my dogs tend to warm my heart.
Feel free to answer all or some of these in the comments! I love hearing about how people met their s/o or how long you've been friends with your closest pals!